Fred Locke
Multipart Porcelain Insulators
Go to Main Page
Go to Multipart History Page 1 Page 2 Page 3 Page 4 Page 5 Page 6
Click on the links below to view each style:
M-2332 (Locke catalog #307, 1-3/8" threads; #307A, 1" threads)
Production dates: 1901 – 1905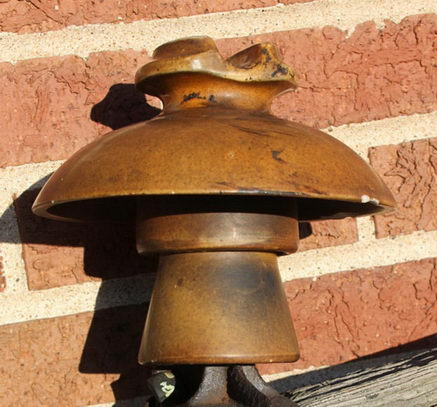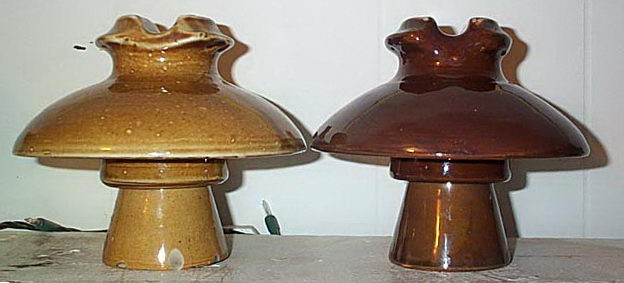 Photo at left courtesy of Pat Scott.
There are three distinct variations of the M-2332. In the 1902 Locke catalog the #307 and #307A are listed as having a diameter of 7-1/2" which corresponds to the left and center specimens. The 1904 Locke catalog has this insulator listed with a diameter of 7-3/8" which is the diameter of the right one. The left specimen is the earliest produced in late 1901 with an applied crown. The blonde specimen in the above photo was produced in 1902-03 and has a full mold line extending from skirt edge to skirt edge. The right specimen has a mold line over the dome and a mold line line or raised ridge circling the crown. This is found on 1903-05 era insulators.
The M-2332 was well documented by long time collector Robert Winkler. According to him, this insulator was the favorite choice of interurban railroad builders in the Midwest from 1902 to 1907 and they were being installed that late. They were once as common as a Hemingray 42 on the early electric railways of the Midwest.
This design was very widely used on a number of interurban railroads in the Midwest primarily in Ohio, Indiana, and Illinois. There is historic photographic evidence of another installation in Connecticut on the Bulls Bridge-Woodbury transmission line built in 1903, but none have been found there by collectors.
Specimens of M-2332, though scarce, have surfaced in widely distributed locations in the east with most coming from flea markets or antique shops. Some have been found by collectors north of Chicago on an old interurban right of way.
Two specimens of the #307A were recently removed from service on a 4 kV line in an older part of St. Louis, MO by a line crew for collector Pat Scott. One of them is the only known specimen with an applied crown. It was produced on December 17, 1901, less that two weeks before fire destroyed the Victor plant. It may have been in one of the last shipments to leave the plant. Interestingly, both specimens have 1" pinholes making them the first reported #307A specimens. All of the other known M-2332's have 1-3/8" pinholes #307 as shown in the 1904 catalog.
Specimens of M-2332 can have either marking 6-1 or 7-1. At least four or five unmarked specimens are also known all of which were produced in either 2-part or 3-part molds.
This design fell out of favor after about 1905 and most were replaced by styles like the M-3060 produced by other manufacturers.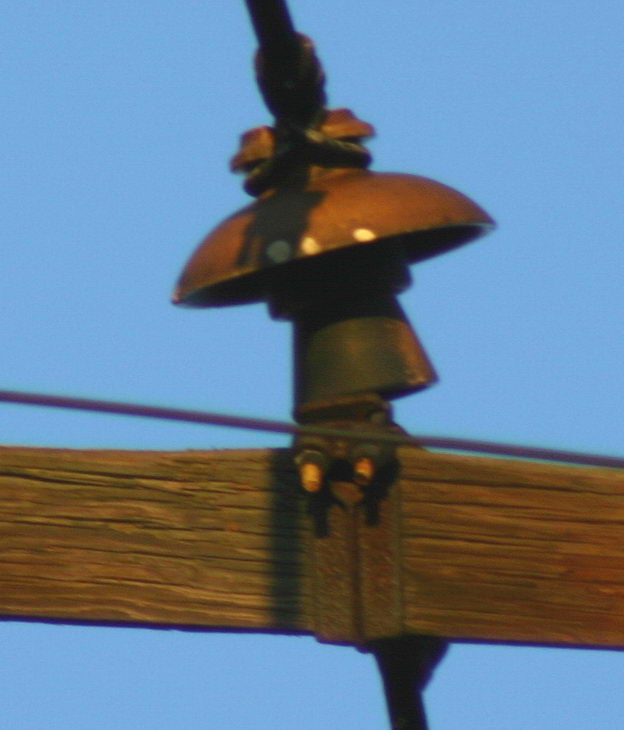 One of two found in St. Louis, MO in 2009 and removed in December 2011. Photo courtesy of Pat Scott.
M-2335 (Locke catalog #306)
Production date: 1900-1901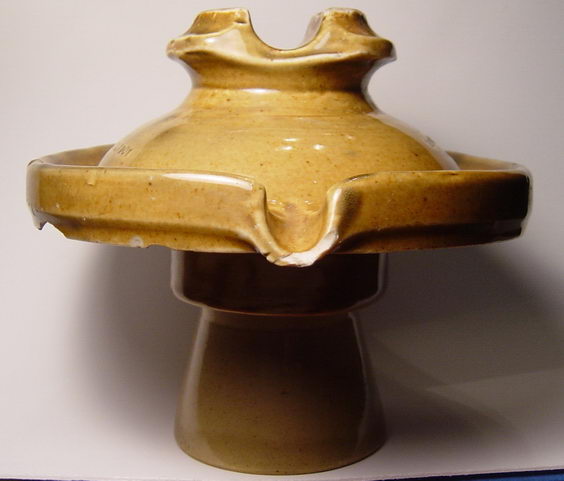 The small two spout gutter was used on a single line that ran from downtown Tacoma, WA paralleling the American Lake trolley line south of Tacoma. Only three insulators from this line have survived that were found in the Tacoma area. One was recovered by a collector and his son in 1967 from an abandoned pole along the line. These have 1-3/8" pinholes.
A fourth top was found in the Victor plant and taken home by a long retired employee that later ended up on ebay.
The markings on these insulators are #4-1 and #4-3.
Parts of a white top were also found in the Victor plant dump, which had marking #6-2.
M-2335A (Locke catalog #306)
Production date: 1902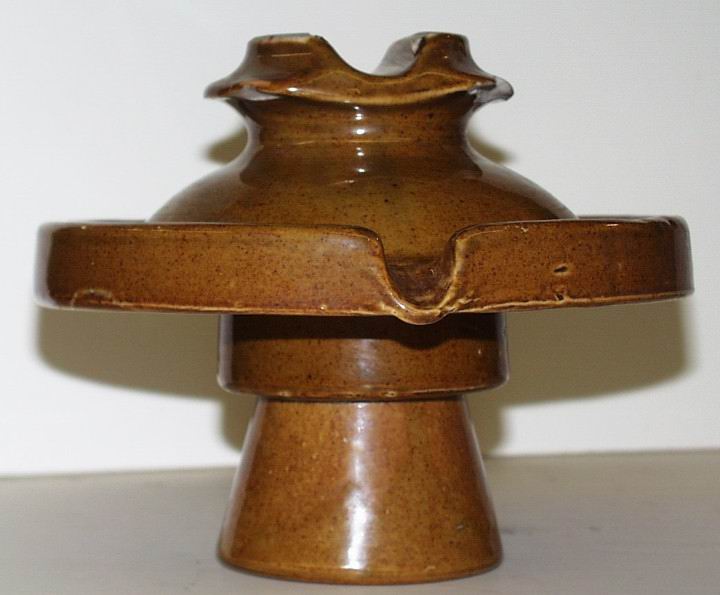 Only two known specimens of this insulator exist. Reportedly they were used in a now long gone substation in Philipsburg, Montana. Both came from long retired lineman originally and both have marking 6-1. Both have 1" pinholes.
M-2336 (Locke catalog #304)
Production date: 1900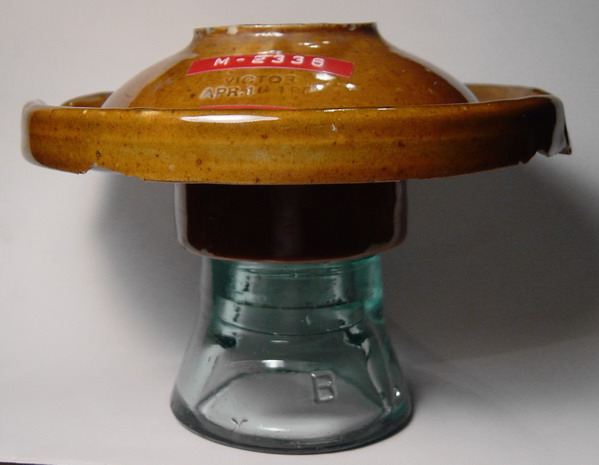 This insulator was found in the Victor plant only one specimen is known to exist. It has marking 4-1. On the opposite side is marking VICTOR / APR. 10 1901.
M-2401 (Locke catalog #)
Production date:
M-2430 (Locke catalog #408A)
Production date: 1903-04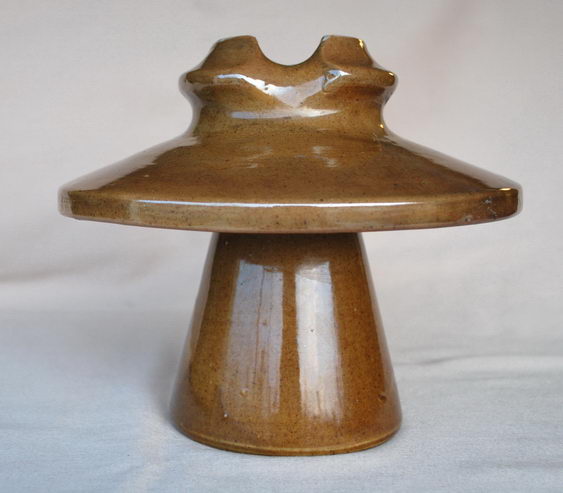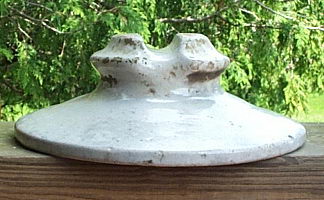 About a dozen marked specimens of this insulator and 25-30 unmarked specimens were found on a 50-mile long line 1903 line from the Junction City power plant at Eureka, CA. All marked specimens had marking 7-1. Two double-marked specimens are also known.
A few broken ones were also found on a line south of Chicago by Bob Stahr in the 1990's.
This Fred Locke design became one of the most popular small multipart insulator designs used in North America. In subsequent years, it was copied and produced by the millions by nearly every known manufacturer up into the late 1930's.
One marked white glazed top to a M-2430 was found in the Victor dump and it is the only known white example of a Fred Locke cemented multipart other then the white M-2795.
M-2785 (Locke catalog #318)
Production date: 1902-1903?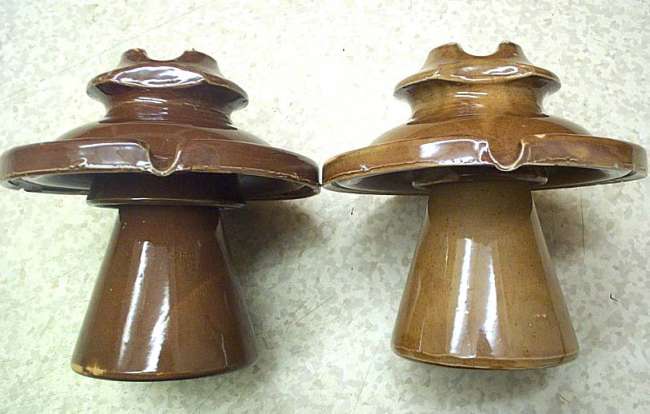 M-2785 is known in collector circles as the big crown gutter, was produced in the years 1902 and possibly 1903. After the December 1901 factory fire, the Locke #318 (formerly M-2796) was completely redesigned to eliminate the weaknesses in the older design previously produced. One new feature was the socket shaped joint where the crown was applied to the body of the top skirt. This eliminated the problem of the crown shearing off under lateral strain that plagued the earlier design. The second feature allowed the upper portion of the collar to be recessed in the body of the top skirt preventing the problem of the collar breaking under lateral strain.
Two different variations of this rare style exist. The one on the left with the smaller collar was found only in Washington state. It was used on the Puget Sound Electric Railway. These were first installed in early 1902 and remained in service when the line voltage was upgraded to 55 kV around 1917. Subsequently a large number of them were reused on two lines. One was a few miles north of Enumclaw, WA and the second line was in a secondary under-build of a 55 kV transmission line which paralleled the Seattle-Everett Interurban Railroad. All of the known specimens of the small collar version were found near Enumclaw, WA. About a dozen exist. One damaged specimen was found on the original line near Milton, WA with marking 1-8. All other known specimens have marking 6-1.
The M-2785 with large collar have been found only in northern California in PG&E territory. They appear to have been originally used on lines constructed in 1902. Most of these were salvaged and used on scattered lines constructed in the 1908-1925 era. Very few of these are known to exist today -- may be 1/2 dozen of these at most. All specimens of this design have applied crowns and marking 6-1.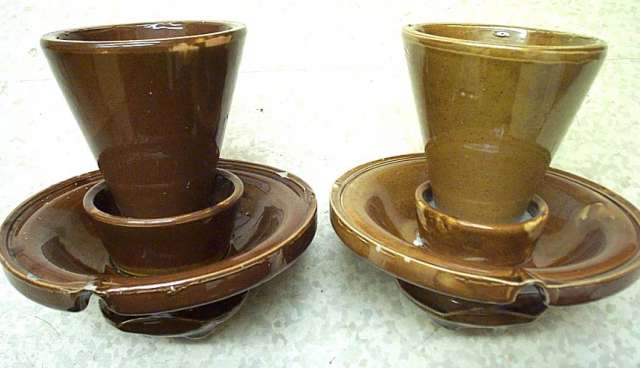 Go to Multipart History Page 1 Page 2 Page 3 Page 4 Page 5 Page 6