Fred Locke
Multipart Porcelain Insulators
(page 1 of 6)
Go to Main Page
Go to Multipart History Page 1 Page 2 Page 3 Page 4 Page 5 Page 6
Click on the links below to view each style:
M-2010 (Locke catalog #)
Production date:
M-2053 (Locke catalog #)
Production date:
M-2121 (Locke catalog #)
Production date:
M-2201 (Locke catalog #)
Production date:
M-2203 (Locke catalog #)
Production date:
M-2220B (Locke catalog #101)
Production date:1903-04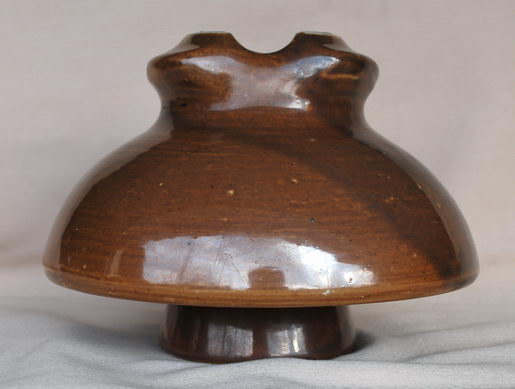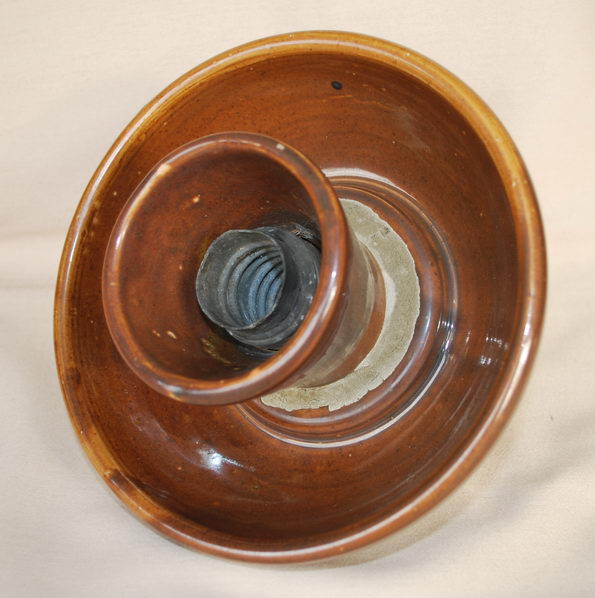 M-2220B
This insulator design first appeared in 1903 and was listed in the 1904 catalog. In subsequent years after Fred Locke departed from Victor, it was a design that became somewhat popular with many utilities and was made by many manufacturers in the 1904-1925 era.
Specimens of this insulator with Fred Locke markings and/or characteristics are known to have been used on only one line that was north of Medford, OR. One unmarked and two marked specimens are known. The line also had U-964 Fred Locke specimens. M-2202 uses the same inner skirt as M-2332 and the same top as M-2250. The two marked specimens have marking 7-1.
M-2250 (Locke catalog #103)
Production date: 1902-04

Early 2-part mold (left), 3-part mold normal bottom skirt (center), 3-part mold with enlarged skirt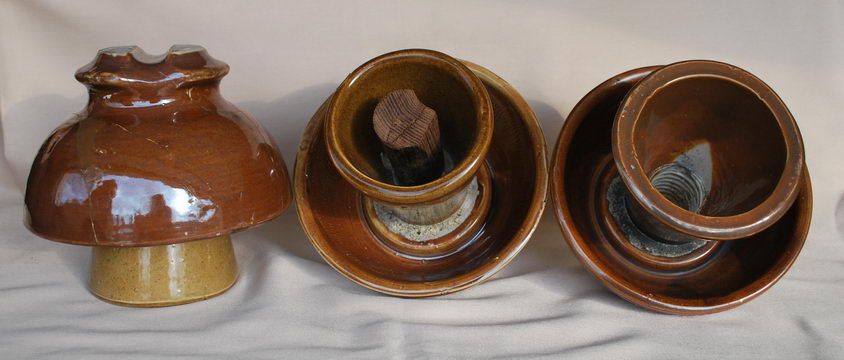 M-2250
This design began production in late 1902 when an order was placed by the Hudson River Waterpower Co. based in the Schenectady, N.Y area for use in their substations and on 10 kV primary lines. These first insulators were made in two-part molds. Only two specimens of these have been reported with marking 6-1.
Subsequent orders for these by the same company were made in the 1903-04 era and have marking 6-1 or 7-1 or were unmarked and had tops made in three-part molds. A few specimens were assembled with sulfur cement that came from within the Spier Falls power station that were removed by the chief operator around 1970. Others found elsewhere on their system used Portland cement and sand.
M-2250 was also used on the interurban line from Dayton to Toledo, OH. These specimens were made in three-part molds and have been found with marking 6-1 or 7-1. Two specimens have been located at flea markets in the Columbus, OH area. Some of the specimens from Ohio have an enlarged bottom skirt as described in the 1903 Ohio Brass catalog. The intention of the larger flat-bottom skirt was to allow the insulator to screw down and rest on the crossarm for additional strength. This is idea was covered by Fred Locke's patent No. 796,977.
Less then a dozen marked M-2250 specimens are known. Most specimens have unglazed pinholes. A few unmarked specimens have also surfaced, but their exact history is unknown at this time.
Go to Multipart History Page 1 Page 2 Page 3 Page 4 Page 5 Page 6
Go to Main Page