Digging and Recent Discoveries in
Victor, NY area
Go back to Main Page
The Victor area has long been a place to dig. Many discoveries of unknown styles and colors have been found there and continues to be a source of new finds. Some of the insulators found have been whole specimens. Here we will document these finds.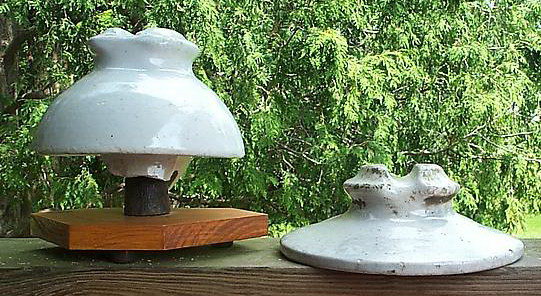 Reported June 13, 2009: Two very rare treasures from Victor. On the left is an unmarked white Fred Locke U-964. It's top is amazingly unbroken wile the inner skirt is damaged. It was found by Jim Kimble early this spring. On the right is a top to an M-2430 marked with a very weak 7-1 Fred Locke marking. It is scuffed up from being buried for 100 years but is otherwise unbroken. Sadly, No inner skirts in white for the M-2430 exist. The white top was found just today by Jim and I . It will be going into my collection. Jim also took home the inner skirt of a rare U-969 white little gutter today...!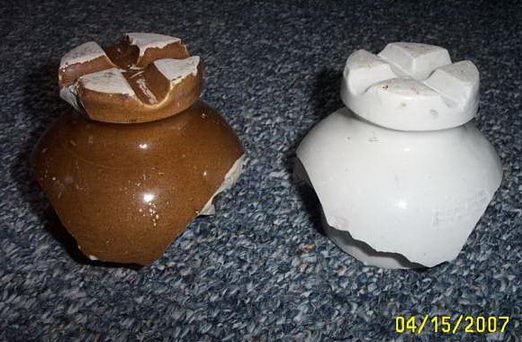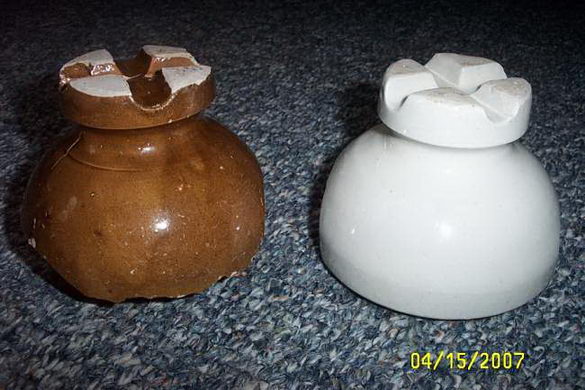 Jim Kimble reported these two rare U-923D's on November 22, 2007.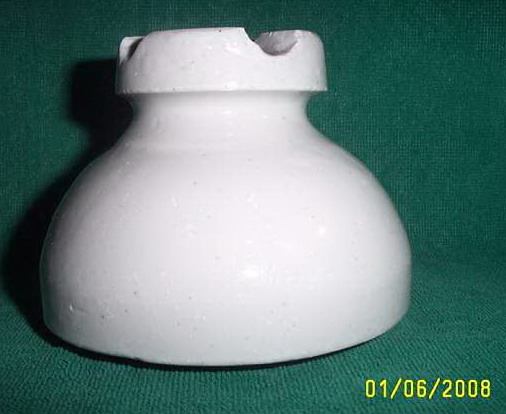 Unmarked U-923D reported by Jim Kimble on January 6, 2008.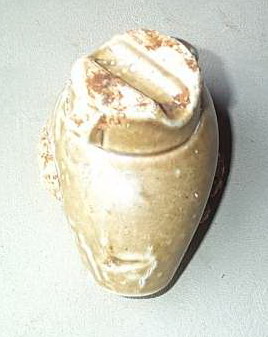 This poor homely thing never made it in to service.... it looks like a kiln furniture crash did it in . there are bits of fire brick stuck to it everyplace!!! WOW something that was actually to messed up for Fred to ship out... It was dug by Jim Kimble in Victor. (reported by Mike Spadafora August 22, 2007)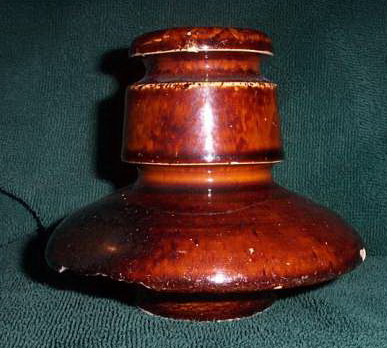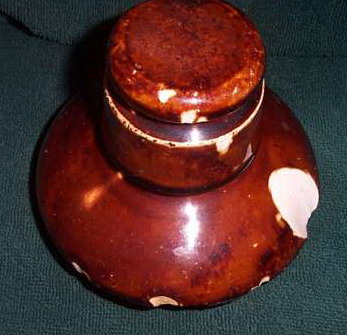 U-212 N-N Locke was reported by Jim Kimble December 21, 2007. Jim has found 2-3 others with at least 2 in much better condition. U-212 first appeared in the 1910 Locke catalog.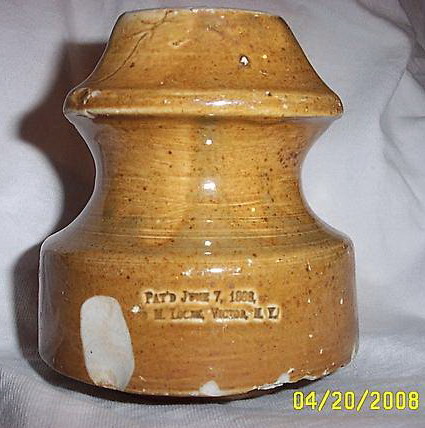 U-529A reported by Jim Kimble on April 20, 2008.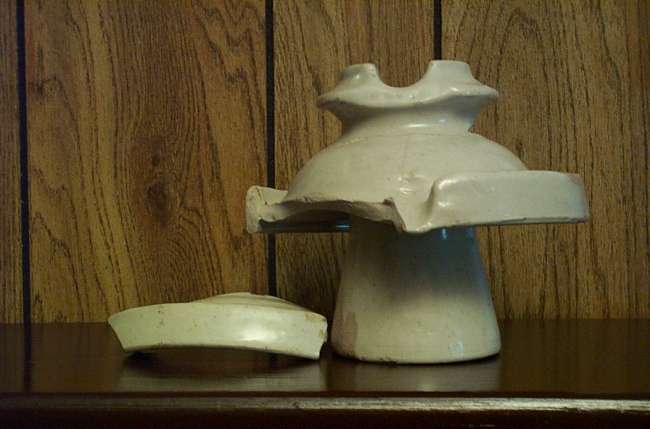 Reported by Mike Spadafora on September 26, 2007:
I went up to visit Jim Kimble in Shortsville, New York a few weeks ago to do some digging and trading. As some of you may know Jim is Fred Locke's great grandson. We had a great time talking about his family history as well as our shared interests in preserving Fred's legacy and collecting and preserving artifacts related to Fred Locke. Jim was kind enough to share some priceless artifacts with me such as glassware from Fred's laboratory, some of his glass gem stones, and the original medals Fred got for his insulator trade show displays. We went out and did some digging while I was there and had a nice time getting muddy and getting some good exercise as well. After several hours of digging in the "usual spot" and finding no treasures to save and take back, I decided to go and explore some old long abandoned railroad lines nearby. Well down an embankment I spotted some old non-porcelain garbage so I took a few moments to poke around and look for bottles. Then I spotted something white in a pile of gopher hole diggings... a piece of the rim of a little white gutter.
OH MY GOD!!! A U-969!!! Holy (expletives!!!) !!! .....I yelled for Jim to come check it out. I began digging up the gopher hole and found the complete core of a U-969 with the lower skirt and crown intact. Soon I found 80% of it's platter and rim. The platter was a busted mess but repairable. Had it not been for the gopher's recent diggings this insulator would have been completely hidden under the dirt. I dug for a long time and never found the complete platter and rim but enough was there to make a nice displayable insulator (with some serious repair work). The insulator seems to have been carried by someone walking the tracks long ago and tossed into the woods. It seemed weird too that there were no other insulators of any sort nearby. I later was able to get a chunk of another specimen to use for a cut and paste repair. I know of no other examples of this insulator in the hobby at the moment. There is one completely unbroken U-969 preserved in the the Victor plant. The U-969 is the smallest of Fred Locke's gutter 300 "Victor" series insulators. This insulator was originally cataloged as cemented multipart (cat #302). The specimen pictured above was made as a glazeweld unipart with a six and one half inch top. It was later added as catalog No. "302-1/2". Also the larger #306 was added as No. "306-1/2" for the seven and one half inch top glazeweld version. No seven and one half inch unipart gutter tops are known to exist and No U# has been assigned to this style. Two cat. #306 (M-2335A) seven and one half inch inch multipart specimens exist [click here] There is one six and one half inch multipart top for a #302 in the Smithsonian.