Fred M. Locke
Dead End Insulator
Go back to Main Page
The following insulator was found by Mike Spadafora at a dump in the Victor, NY area. This is the only known example of a circa 1902 Fred Locke dead end spool-type strain insulator. It has the #6-1 incuse marking. Mike is repairing it to its original glory.
Fred M. Locke dead end spools are an elusive and rare collectible. They were produced in both brown and white glazes originally. There have never been any Fred Locke dead end spool-type insulators recovered from old lines or building structures by collectors to date, but pieces of at least four different designs have been found in the Victor dump including a 7-inch gutter-top spool, a small unipart glazewelded spool, the larger glazewelded spool pictured here, and a larger two-part spool design that was likely cemented with sulfur cement.
Spool designs evolved rapidly during the late Fred Locke era starting with the first units that were produced sometime in 1902. The earliest ones had marking #6-1 and very thin fragile skirts. The very thin base skirt or bottom stand skirt on early units were very prone to damage as the spool was put under mechanical load.
Sometime in 1903 ,the designs were modified to ones with much thicker petticoat skirts and a very thick flat surfaced base skirt. These thicker insulators have been seen in the Victor dump with only marking #7-1 or unmarked.
(Note: Field research has shown that marking #6-1 was only used in 1902 and early 1903 wile marking #7-1 was used primarily from the first few months of 1903 through 1904.)
I am reasonably certain some of these Fred Locke dead end spools did see use on lines. Photos of the Gold Ray Dam in southern Oregon show large spools in use soon after the dam was constructed, which would be in the Late Fred Locke era around 1904. Most early Locke spools likely saw use on interurban rail lines in the Midwest and due to their fragile nature and limited production (as compared to pin types) few will likely ever be found by collectors.
The spool in the photo below has the distinction of being one of the very first produced since it is the early thin, fragile design and has the #6-1 marking.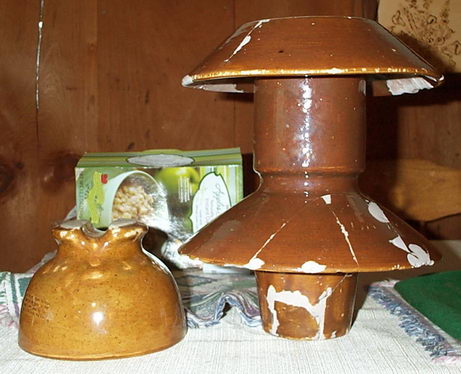 Deadend strain insulator with #6-1 marking after gluing the parts together but before coloring the patches.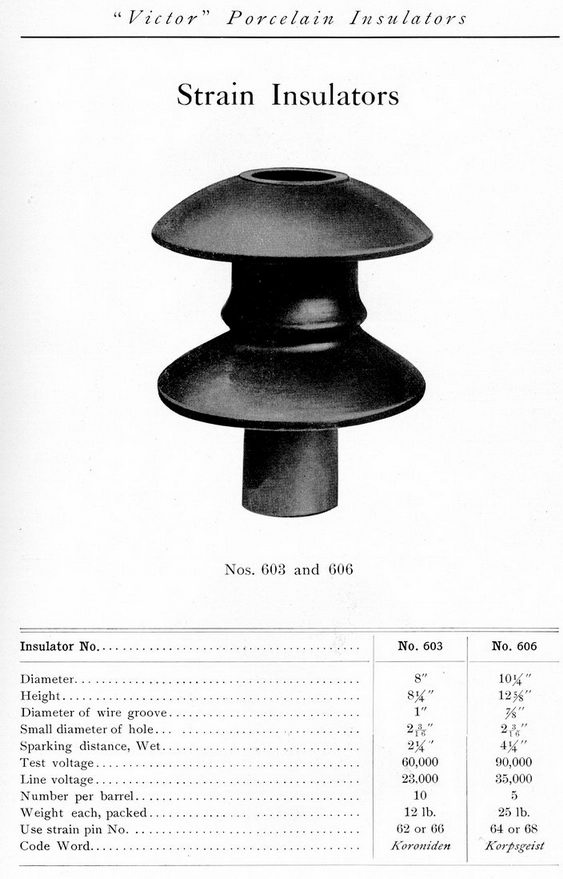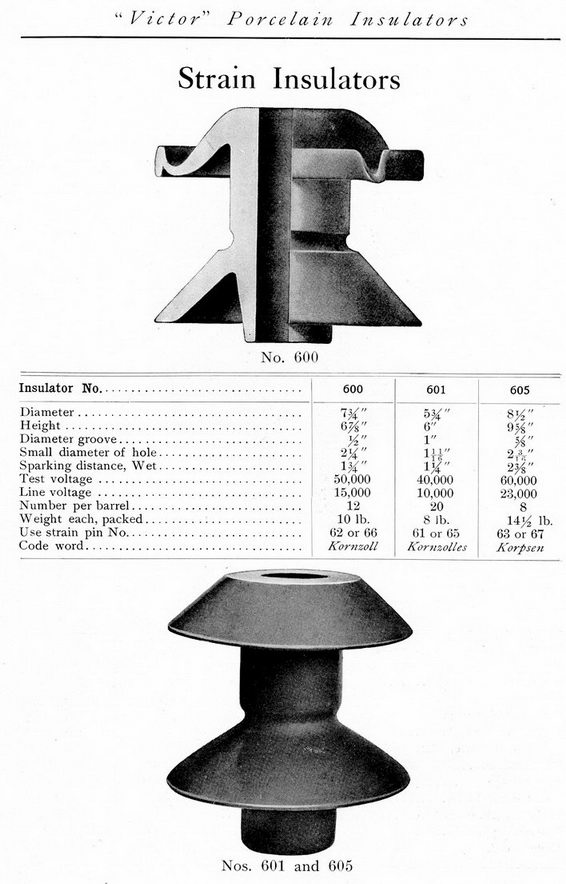 Dead end spools shown in the 1904 Locke catalog.